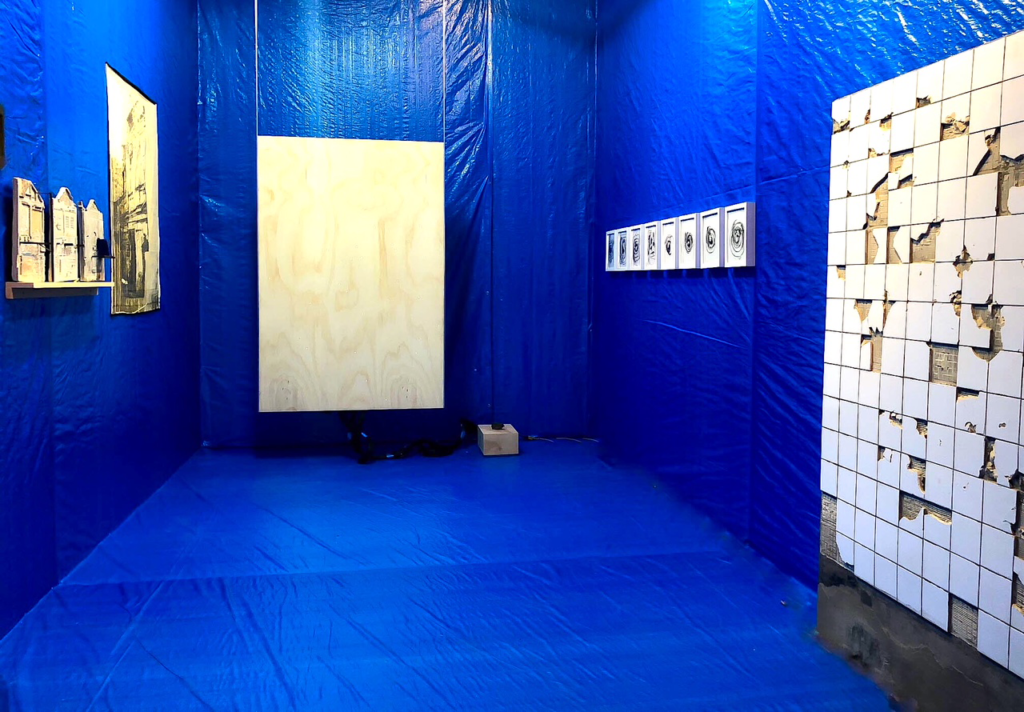 THE BORDER – Ingaurating show
Curated by Jamie Martinez
March 2 – April 26, 2018
Participating artists: Peter Kaspar |C.J. Chueco | Levan Mindiashvili | Aphrodite Désirée Navab | Jamie Martinez
In light of the recent political focus on curtailing immigration, a cornerstone of the history and identity of the United States, the time has come for artists of diverse backgrounds to come together and present a united voice in support of multiplicity. It is in this spirit that Jamie Martinez, an immigrant artist and publisher of the art blog ARTE FUSE, announces the opening of a Bushwick-based project space called THE BORDER that will focus on supporting and showing talented/established immigrant artists living in the United States in the hopes of creating a nurturing environment for immigrants and non-immigrants alike to create a dialogue around their work. Reflecting the best of American diversity, THE BORDER will be open to everyone.
Throughout history, immigrants and the children of immigrants have played an invaluable role in shaping the face of the nation through an endless list of contributions and accomplishments. The United States is a country built upon the embrace of blending cultural traditions, and nearly every citizen has been born out of the precedent of immigration from around the world.
THE BORDER'S opening group show, curated by Martinez entitled THE BORDER #1, will feature sculptures by Peter Kaspar (Slovakia), C.J Chueca (Peru) and Jamie Martinez (Colombia), as well as a series of drawings by Aphrodite Désirée Navab (Iran/Greece) and a unique art piece by Levan Mindiashvili (Georgia). The first show called The Border #1 is currently displaying artists from Slovakia, Iran/Greece, Peru, Georgia, and Colombia. Some of the artists have had or are having museum shows in their respected homelands. Together, the exhibition explores the vibrant artistic contributions of a sampling of the immigrant community in New York City, a longtime hotbed for creativity and cultural exchange.
Participating Artists: Peter Kaspar (Slovakia), C.J. Chueca (Peru), Levan Mindiashvili (Georgia), Aphrodite Désirée Navab (Iran/Greece) and Jamie Martinez (Colombia).
Peter Kaspar is originally from Slovakia and his work explores the relationship between culture and memory. The conception of memory as a temporal phenomenon is sometimes too contracted. Either in visualized or abstracted form, one of the largest complications of memorializing our past is the fact that it is absent. Peter has shown all over the United States and also has a museum show coming up in Slovakia curated by one of the country's most important contemporary artists.
C.J. Chueca creates walls that neither contain or separate. Instead, they provide insight into the complex ways that walls operate in our lives. (…) Poignant narratives are hinted at by small objects scattered about the backside of the walls—ceramic replications of cigarette butts, bottle caps, toilet paper rolls and beer bottles seem remnants of lives that once inhabited the spaces that these walls no longer define" (Excerpt from Eleanor Heartney's essay, "Something there is that doesn't love a wall"). C. J. Chueca is currently working on her next solo show called "Dos Cielos Azules" that will on view at ICPNA Instituto Cultural Peruano Norteamericano on April 2018.
Levan Mindiashvili is a Georgian born (1979) visual artist and independent curator living and working in New York and Tbilisi. He holds his BFA in Sculpture from Tbilisi State Academy of Arts and MFA in Crossed Media at The National University of Arts of Buenos Aires, Argentina. Among his awards are Commission Grant for Public Art Projects from National Endowments for Arts (New York, 2014) and Emerging Artist of 2011, Movistar Arte Jóven (Buenos Aires, Argentina). His works had been included in recent group exhibitions at The 7th Beijing Biennale, China; Georgian National Gallery, Tbilisi; ODETTA, Brooklyn, US; David & Schweitzer Contemporary, Brooklyn, US; Tbilisi History Museum, Georgia; Arsenal, Kiev, Ukraine; Tartu Art Museum, Estonia. Recent solo exhibitions include "Here" at Georgian National Museum, Mestia, Georgia; "Inbetween" at State Silk Museum, Tbilisi, Georgia; The Lodge Gallery, New York, US; His works are in public collections of Georgian National Museum (Mestia), State Silk Museum (Tbilisi) and National Art Museum of China (Beijing).
Aphrodite Désirée Navab, "is an Iranian-born, New York-based artist whose work mines her Iranian, Greek and American cultural heritage asking questions of its competing histories and politics. Her art is the aching inquiry of an uprooted consciousness seeking new roots. It also serves as a site of critical dialogue and debate. Ultimately, Navab's art haunts our imagination with its beauty and complexity, inviting us to engage in a third space of transnational and cross-cultural initiations, leaving domination and demonization outside the picture." -Reza Aslan, author of NY Times #1 Best Seller, Zealot: The Life and Times of Jesus of Nazareth.
Colombian artist Jamie Martinez immigrated to Florida at the age of twelve from South America. He attended The Miami International University of Art and Design then moved to New York to continue his fine art education at The Fashion Institute of Technology and The Students Art League in NYC. His process involves constructing, deconstructing and fragmenting images, data, and information geometrically into triangulated segments. Jamie's work has been featured in multiple outlets like a half hour personal TV interview with NTN24 (Nuesta Tele Noticias, a major Spanish TV channel) for their show Lideres, Good Day New York (TV interview), Fox news (TV interview), Whitewall Magazine, CNN, New York Magazine, Newsweek, The Daily Beast, Untitled Magazine, Bedford + Bowery, Whitehot Magazine, Decompoz Magazine (print), The Examiner, Artribune, Art Nerd NY and many more. Martinez has shown in Russia, Spain, Canada, Miami, California and numerous galleries in New York City including: Petzel Gallery, Whitebox NY, The Gabarron Foundation, Flowers Gallery, Elga Wimmer PCC, Foley Gallery, Rush Gallery, Galerie Protégé, Untitled Space and many more. He also participated in a group show curated by Vida Sabbaghi at the Queens Museum which was very well received by the museum and the press.